Shoutbox
Recent Posts
11
« Last post by Bankpin on May 29, 2019, 02:11:42 AM »
We welcome you to RivalPS - A unique experience for private server players
Thank you for taking a look at our advertisment thread!
RivalPS is a custom rsps that focuses on creating player friendly & fun to play content that's unique. Join us for an amazing experience!
The Developer is working hard to make Rival a great experience for players, but only you can come and be a judge of his work!
Features:

Custom items & stats that differ from other rsps's
No broken customs or nulls
Normal/Hardcore/Ironman modes
Automatic voting/donating
Not P2W
Donator perks & Custom donations
Well of Goodwill
Player owned Shops
Fullscreen/Resizable/Fixed client
Custom Home & Shops
Custom Teleport Interface
Custom Gambling System&Interface
Custom Tasks & Achievements with rewards
Custom Healing / Extra Damage set effects
Custom Quest System for skilling
You love skilling? It's profitable!
Drop Rate boosting items & Ranks
Custom Pets with perks!
Custom Melee/Range/Magic NPC's
Custom Bosses
Group Slayer - Slay with a team of 10 people!
All damage dealers get a drop!
Superior Slayer monsters + 5 Custom Slayer Masters
Expeditious Amulet & Amulet of Slaughter
New & Custom Minigames
Skilling/Prestige/PvM/Imbue Points
Item Imbuing
Mystery Box interface + Quick open
Monthly TOP 10
Weekly Polls
We have an active discord channel
The server has all staff spots open

Media:
PLAY NOW!
12
« Last post by ragnoroker on May 28, 2019, 04:12:29 PM »
Welcome to PoonScape, A brand new server which is destined to thrive.

Great Community and Great Staff
Links:
PoonScape Website
Play Now
Discord
Some of the features consist of:
Good Economy
90% of OSRS Features
Skillcape Affects
Achievement Diaries
Brand new wilderness bosses now in game with great rewards.
Old-School PKing Pre-sets.
lots of achievements with great rewards.
Huge selection of bosses to kill for great items.
PKing Achievements with great rewards.
Kill 500 Players for the dead man cape best pking cape on the game.
All Osrs pets gained from bosses and skilling.
One of the best PKing homes known to RSPS.
Flawless Combat System Fully Re written.
Full Raids, Fully Re written.
Fully working Vorkath, with great drops.
Instant Pk Setup Options, For all you Pvp's.
We have over 10 Different wilderness Event bosses ,With a instant teleport option to take you to the event.
Mythical cape with teleport option to legendary zone.
Re worked all of the boss drops, event drops, clue scrolls, and much more.
Giant scarab, The inadequacy, dusk and dawn, Giant sea snake are now in game with all correct animations and attack styles.
Vespula & Soldiers, Tekton, Muttadile are new donation bosses with great rewards use the mythical cape for teleports.
Some sneak peaks
Have fun and respect eachother
13
« Last post by depern on May 26, 2019, 12:38:35 AM »
Hello I've been searching for a oldschool runescape male/female character model everywhere, but cannot find a download. Could anyone help me out?
14
« Last post by shapaklekas on May 24, 2019, 11:39:14 AM »
Hello,
I am
YourGamingDude.com
site owner and i would like to invite you all to add your server / website and even your
Runescape Services
to our server list!
I would like to offer free advertise in our
RSPS server list
. Its absolutely for
free
! You don't even have to force your players to vote like in other sites! No ads, no bullshit just pure server list!
About site: My website is focused on
game servers
(like
Minecraft server
,
RSPS server list
,
L2 Servers
, and of course
Wow servers
),
game markets
(like
OSRS gold
,
Lol Boosting services
and more!) and
gaming guides
(like
Fortnite pro settings
,
How to create Wow private server
,
how to create rsps
and others!) including
Discord servers
also almost every listed site have backlink to our website that means our SEO is growing every day and its really good opportunity to increase your website and server traffic for free!
Best wishes,
www.YourGamingDude.com
15
« Last post by Alex_RF on May 23, 2019, 09:44:34 AM »
hello,
i want to implent the middle mouse novement into a rsps, but i get a bunch of error, does anyone know how to fix those?
i am using the 2006Redone source and i think it's based off project insanity.
I followed this guide:
https://www.rune-server.ee/runescape-development/rs2-client/tutorials/552017-middle-mouse-movement.html
The errors are:
And here are the .java's that has been used:
RSApplet:
https://pastebin.com/ikg3avc1
Game (client?):
https://pastebin.com/htSjUC1e
Thanks in advance!!
16
« Last post by Duriall on May 21, 2019, 04:49:54 PM »
Be sure to join the new server - Varrock - Release is tomorrow!
Sign up on our forums and Introduce yourself for a free Mystery Box on release!
https://forums.varrock.org/register/
Some of our key features include but are not limited to:
1. Chambers of Xerics Raids.
2. Full GWD / All Wilderness Bosses.
3. Fully working Slayer, Construction, and all other skills.
4. Fully custom home located in Edgeville but themed after Varrock.
5. Inferno + Fight Caves.
6. Minigames such as Pest Control, Castle Wars, and Last Man Standing.
7. A variety of gamemodes to choose from to suit your playstyle.
8. Theatre of Blood Raids, Konar Slayer, and Alchemical Hydra in Development!
Active discord with over 500 people waiting for release
https://discord.gg/DMZDbz
17
« Last post by serverok on May 20, 2019, 01:48:56 PM »
I want to start a private server. If anyone having experiance want to be team up to start a server, message me. I did coded some java some years back, don't have experiance in RSPS. I have VPS and good at Linux/web server setup.
Skype:
[email protected]
18
« Last post by Riskdemon on May 18, 2019, 11:45:14 PM »
19
« Last post by AcemanWolf on May 18, 2019, 10:50:36 PM »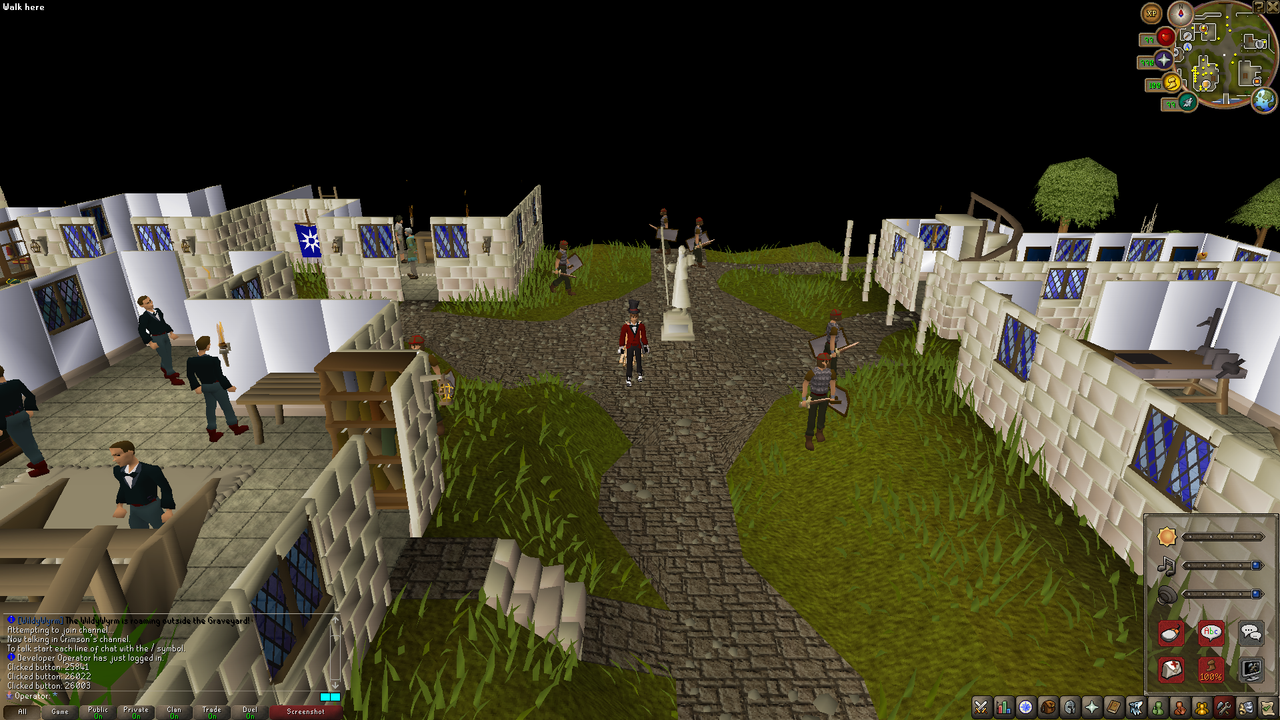 Hello,
Our RuneScape server is a open beta. Please report bugs and what needs to be added/fixed to the server. Thanks.
Website:
https://www.legendscape.xyz
https://www.legendscape.xyz/hiscores/
You can download the files here:
https://www.7thnetwork.com/forum/run...ad-beta-client
LegendScape is a private RuneScape server. No shop, no donation, and no P2W. Join us now!
20
« Last post by violence. on May 18, 2019, 08:03:45 PM »
Welcome to Violence, we are Brand-New.
Join the most addictive war in the RSPS scene, we are a community
driven RSPS that strives to create the most enjoyable experience for you!
Violence has been in non-stop development for the past Year, with a goal of surpassing
all PK/PVM based servers. We are not just only a Pking server, but a great Pvming and
skilling server too, with an extreme amount of pure content, wat is really addictive.
+ Raids 2 Wilderness Events
+ Raids 1 Wilderness Events
+ Raids 1 Chambers Of Xeric
+ Wilderness bosses drop parts of the twisted bow
+ Active wilderness
+ Brandnew event chests.
+ Wilderness bosses, drop pvp crates and other crates with great loot.
+ Log-in and Pk instantly
+ Every single osrs wilderness boss with great loot.
+ Quick set-up interface for instant Pking
+ All OSRS items and every osrs boss.
+ Tournament system, the best Hybrid claims the BM reward and #1 Hybrid title
+ Blacklist a toxic player from attacking you at Edgeville
+ Wildernerss Bots to pk against as practice
+ Profile interface system, search other player's statistics
+ World events spawn every 2 hours to spice things up with bonus rewards
+ Highscores for pures, zerks, ranged tanks, mains
+ Achievements to unlock items and titles
+ Osrs items, bosses & maps
+ Welfare items are free, barrows and above cost blood money
+ Professional client with customization to any revision you would want
+ Many Wild bosses for the best money making methods
+ Pvp tasks, get kills as a pure/zerk/main and claim BM reward after completion
+ Target system
+ Every OSRS Boss pets & Skilling pets
+ Daily highscores, #1 spot claims 15k Bm reward, different highscores everyday
+ Skilling for skill capes, max capes & some relaxing money making
+ Daily lottery
+ Killstreak skulls
+ CS GO Mystery Boxes
+ F2p protection when F2p pking
+ Placeholders & all bank features
+ Killstreak skulls
+ Much more addictive content, join the grind now at
http://violenceps.com
Galvek from dragon slayer 2 just released, this boss will have some great loot to achieve,
he is a really powerful boss, so get your pots and armour ready for the fight of your life.
Visit
Violenceps.com
to Join now
Copyright © 2017 MoparScape. All rights reserved.